Description
An elegant blend of Rose Petals, Vanilla and Pink Rosé
Medium Candle | 220g | 35+ hours
Large Candle | 385g | 55+ hours
 This classic scent of sweet Rose Petals with a touch of Vanilla infused with sparkling Pink Rosé will inspire you to take time out to stop and smell the roses. A fragrance that evokes cherished memories of family, friendship and love. This scent is inspired by a Rosé Bellini, perfect for a cocktail starter. (See the recipe below to make your own)
Just Enough Beach candles are created by hand using 100% pure natural soy wax and lead-free cotton wicks for a long, clean burn.
Lovingly poured in small batches in the seaside town of Yamba NSW, Australia.
A sensory experience created with love for you to enjoy in your home.
BUYING FOR A GIFT? Let us do the work for you. We will beautifully wrap your candle in our signature hand-drawn paper. For just $5.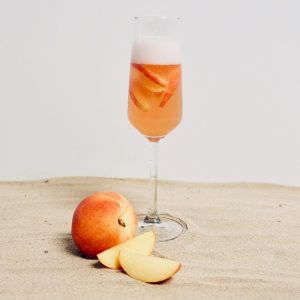 How to make a Rosé Bellini
INGREDIENTS
Sliced Peaches
Agave Nectar
Chilled Sparkling Rosé
METHOD
Thinly slice the peaches with the skin on and divide between 6 champagne flutes. Add approx 1/8 of a glass of agave nectar. Then top up the glasses with sparkling rosé, enjoy! A Bellini is usually made with peach nectar and sparkling rosé, we've added a twist with fresh peaches and agave nectar, it's divine, we think you'll love it!