Description
Tahitian Coconut shaken with Tropical Island Fruits
Medium Candle | 220g | 35+ hours
Large Candle | 385g | 55+ hours
Stop looking, you've found Paradise! This exotic blend transports you to the beach and those long, lazy summer days where relaxation is key and all you can smell is coconut and fresh pineapple for days. Kick back and enjoy! While you're at it enjoy a Pina Colada, that's what this scent is inspired by. (See how to make a Malibu Crush below).
Just Enough Beach candles are created by hand using 100% pure natural soy wax and lead-free cotton wicks for a long, clean burn.
Lovingly poured in small batches in the seaside town of Yamba NSW, Australia.
A sensory experience created with love for you to enjoy in your home.
BUYING FOR A GIFT? Let us do the work for you. We will beautifully wrap your candle in our signature hand-drawn paper. For just $5.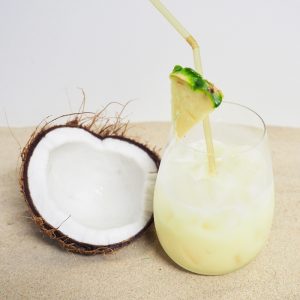 How to make a Malibu Crush –  (it's just like a Pina Colada)
INGREDIENTS                    Makes 1
15ml Coconut cream
45ml Malibu
140ml Pineapple Juice
Ice (enough to generously fill the glass)
Pineapple Triangles to garnish
METHOD
Pour all ingredients into an ice-filled shaker. Shake until cold and pour into a chilled glass. Top with a pineapple slice. The perfect drink for summer holidays.