Description
Sweet Orchard Nectar blended with fresh White Florals
Medium Candle | 220g | 35+ hours
Large Candle | 385g | 55+ hours
Beautiful scents do grow on trees! Fresh, juicy and oh so sweet, this delicious fragrance is reminiscent of a stroll through orchards heavy with fresh, ripe peaches and the scent of soft, white flowers lingering on the breeze. This scent is inspired by our Peachy Punch recipe, to make this drink see below.
Just Enough Beach candles are created by hand using 100% pure natural soy wax and lead-free cotton wicks for a long, clean burn.
Lovingly poured in small batches in the seaside town of Yamba NSW, Australia.
A sensory experience created with love for you to enjoy in your home.
BUYING FOR A GIFT? Let us do the work for you. We will beautifully wrap your candle in our signature hand-drawn paper. For just $5.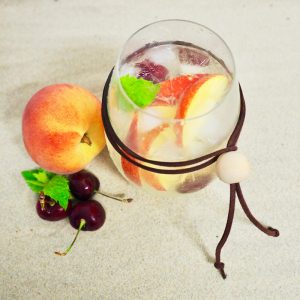 How to make Peachy Punch
INGREDIENTS        Makes 1
Ice
60ml Vodka
1/2 ripe peach (juiced in your hand)
1 tbsp fresh lime juice
3/4 cup ginger beer
Peach slices
Mint to garnish
Cherries to garnish
METHOD
Fill glass with ice, stir in vodka, peach juice and lime juice, top with ginger beer and garnish with fresh mint, fresh peach slices and a few cherries.
This peachy punch recipe is a twist on the Moscow Mule, to serve for a crowd, simply multiply the recipe. It's best served over fresh ice, so make your mix (vodka, fresh peach juice, lime juice and ginger beer, then keep chilled). When ready to serve pour into glasses filled with ice and garnish. A refreshing drink you and your guests will love.